In 1983, President Ronald Reagan proclaimed November as National Alzheimer's Disease Awareness month, bringing the plight of those facing the diagnosis, and the need for a cure, to the forefront. Today, there are more than 6.2 million Americans living with Alzheimer's Disease, and while research continues, a cure is yet to be identified. Arrow Senior Living is working to heighten awareness of Alzheimer's disease during the month of November through discussion and education.
Alzheimer's Disease is the most common form of dementia, but not everyone with dementia has Alzheimer's. As of today, about one in nine Americans ages 65 and older has the disease. Currently there is no cure for Alzheimer's. Modern medicine has helped with slowing the disease process down and education from the Alzheimer's organization has helped with research for finding a cure. Education on how to care for someone living with the disease is offered by many in-person sessions and online.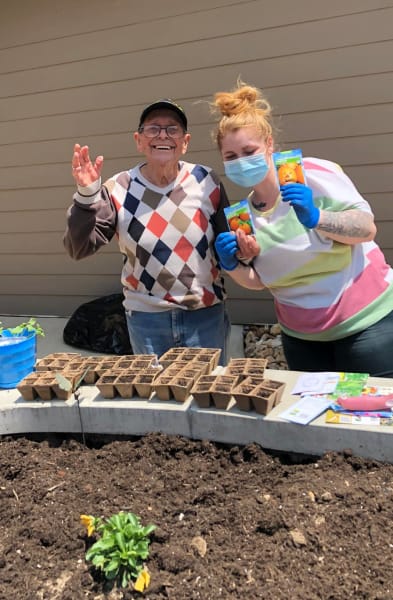 We can best help and engage individuals with Alzheimer's disease by making the person feel welcomed, loved, and cared for. This is the best practice, along with a routine and an open mind from the caregiver. Everyone living with this disease is different; they will have some good days and bad days. It's best to start every day with a smile and help them navigate the day with positivity.
As someone living with dementia progresses, they can forget what life was like before the disease. Our Memory Care Neighborhoods have trained professionals who have a heart for caring for these residents and are trained to have specific routines. We offer sensory programming to fit the needs of individuals with this disease and have care plans based on their condition.
At The Wildwood Senior Living we continue to increase our knowledge of Alzheimer's through ongoing education, so we can better empower those living with the disease and help their families to better cope. Our Memory Care Neighborhoods maintain awareness of this disease, while offering engagement, safety, and comfort to our residents.