In 1968, President Lyndon Johnson signed into law a week-long celebration of the contributions and influences Hispanic Americans have made on the culture and history of the United States. This observance was expanded from a week to a month by President Ronald Reagan in 1988, to begin on September 15th, which recognizes the start of the Mexican War for Independence. All US presidents since 1988 have given a Presidential Proclamation to mark this historic date.
Today, there are roughly 63 million Hispanics living in the United States, that make up 19% of the population. They come from diverse countries and bring with them unique and different cultures and cuisines.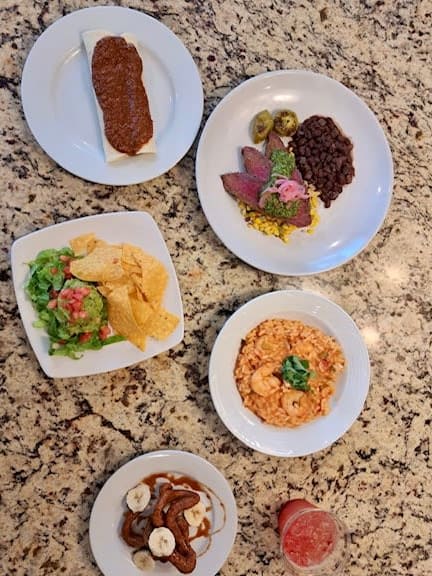 At The Wildwood Senior Living, we will be recognizing those culinary contributions by celebrating the food of Cuba, Mexico, Brazil, El Salvador, Colombia, and Venezuela.
We kicked off our journey to south with a visit to Cuba. Authentic Cubano with Cuban bread, slow-cooked pulled pork, shaved ham, Swiss cheese, mustard sauce, and pickles were pressed in this melted sandwich. It was served with long-simmered black beans and roast corn.
For our Candlelight Dinner we stopped by Mexico with an authentic rich mole served with warm tortillas, followed by a Bolivian avocado and tomato salad served with fresh chips. For our entrees we went to Chile with a lobster and shrimp paella, or a Brazilian piranha, steak caps smoked over a fire with chimichurri sauce. For dessert we traveled to El Salvador for bunuelos, a lovely banana fritter with a spiced honey sauce. We didn't skip the margarita, with choices of strawberry or lime.
For this week's special we will be doing Colombian tacos on arepa bread, topped with a flavorful beef, herbs, lettuce, and tomatoes.
I chose these countries because Latin America has such a rich interplay of flavors and colors.  We wanted to celebrate each of these countries and their unique foods. Our studies helped cement the Hispanic value of hospitality and serving a healthy infusion of caring in every dish. We learned the importance of beans and rice as staples and how the humble ingredient can be transformed into the flavor of home with time and care.
We hope you enjoy our interpretation of these dishes and learn a little more about Cuba, Mexico, Brazil, El Salvador, Colombia, and Venezuela in the process!